Cold Headed Fasteners & Screw Machine Components
Providing you with a 100,000 square foot manufacturing facility with more than 40 cold headers including multi-die, multi-blow machines that give us the capability to manufacture standard fasteners, such as thread rolling, thread cutting, machine screws, collar studs, and sems fasteners, as well as complex shoulder bolts.
Capabilities:
Cold headed fasteners and screw machine components
Size Range: #2 thru 1/2" diameter (9/16" shoulder), up to 5" in length
Material: Low carbon and Alloy steel, 300 and 400 Series Stainless Steel, Brass, & Aluminum
---
Custom Fasteners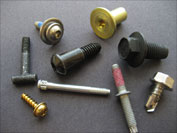 Meeting your needs with any combination of heads, threads and drive specifications, we can produce your components quickly and competitively. Custom designs include: Special Fasteners, Shoulder Bolts, Collar Studs, Sems Screws, Tapping Screws, and Machine Screws.
---
Thread Forming Fasteners
Providing superior performance in today's wide range of plastics and metals, our thread forming fasteners offer excellent mechanical, assembly and ergonomic characteristics surpassed by no other technology. Preventing cross threading and fastener jam, resistance to stripping and vibrational loosening, and reducing boss bursting and driving effort, fasteners include: Taptite II®, Powerlok®, Taptite 2000®, Plastite®, Remform®, Fastite®, Tru-Start®, and MAThread®.



---
Fastener Drive Systems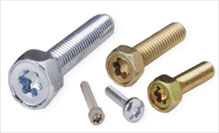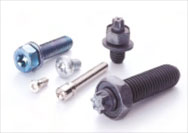 Providing you with the latest enhancements to the most popular fastener systems in use throughout the world. Quality through continuous improvement is crucial for fastener drive systems used for high-speed mass production of fastener-held assemblies. Outperforming any other drive system, our line includes: ACR Phillips II®, Phillips Square-Driv®, Torx®, and Torx Plus®.
---
Services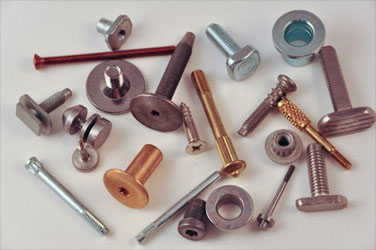 Application Engineering
Prototypes
EDI
Bar Coding
Custom Labeling & Packaging
AutoCad
SPC Quantities from 1,000 pcs. And up
Statistical Process Control (SPC)
Electronic Data Interchange (EDI)
Full Barcode Capability
Custom Labeling/Packaging
Secondary operations:
Heat Treating, Plating, Patching, Shaving, End Slotting, Drilling, Centerless Grinding, Rotary Grinding, Deburring, Assembly, Sorting, Kitting/Bagging